Let's Dish / Fall Favorites
Pumpkin Cake with Chocolate Chunk Cookie Crust
Our friend Natalie combines two of our favorites, Pumpkin Cake and Chocolate Chunk Cookie Dough to make the perfect fall Pumpkin Cake with Chocolate Chunk Cookie Crust!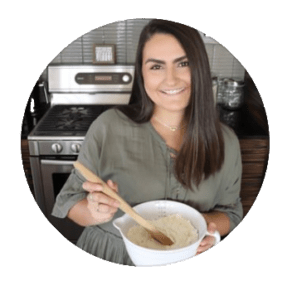 Recipe and photo by Natalie, @eatnaturalwithnat
Total time: 1 hour 25 minutes
Prep time: 25 minutes
Bake time: 1 hour
12 Servings
Ingredients
1 package Sweet Loren's Chocolate Chunk Cookie Dough
2 tablespoons ground flax meal + 5 tablespoon water (or 2 large eggs)
1/2 cup coconut oil, melted
1 cup brown sugar
1 cup pure pumpkin purée
1 teaspoon pure vanilla extract
2 cups all purpose flour or your favorite gluten free flour blend
1 teaspoon baking soda
1 teaspoon baking powder
1 1/2 teaspoon pumpkin pie spice
1/2 teaspoon salt
Preparation
Preheat the oven to 350°F and grease a 9"x9" brownie pan with coconut oil or cooking spray and line with parchment paper to prevent sticking.
Allow the Cookie Dough to soften at room temperature about 20 minutes.
Press the cookie dough portions into the bottom of the baking pan into an even layer.
To make the cake batter, in a bowl whisk together flax egg (or large eggs), coconut oil, brown sugar, pumpkin purée & vanilla extract.
Fold in the dry ingredients, including the flour, baking soda, baking powder, pumpkin spice, and salt.
Pour cake batter on top of the cookie dough crust.
Bake for about 50-60 minutes, until the center is cooked through & a toothpick comes out clean.
Cool completely on a wire baking rack, slice & enjoy! Serve room temperature or cold.
Store covered in the pan or in an airtight container on the counter for 1-2 days or in the fridge for 3-4 days.
---
---