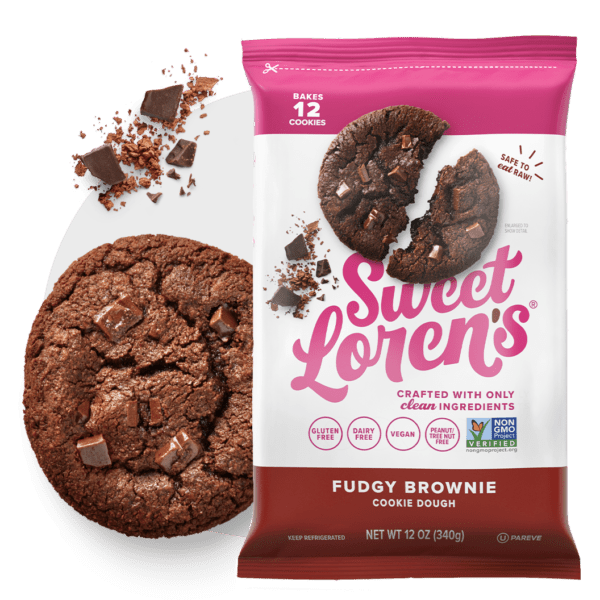 Fudgy Brownie
Cookie Dough
A double chocolate cookie, oozing with the gooeyness of a brownie.
What do you get when you combine all the good-for-you benefits of dark chocolate with all the crave worthy textures of a brownie? Answer: our Fudgy Brownie Cookie Dough.
The not-so-secret ingredient to this super chocolate cookie is specially sourced unsweetened cocoa powder which packs a powerful flavor punch. Permission to drool over this chocolate- bomb: granted.
Bake the perfect cookie in minutes, or snack on them raw! Our pre-portioned cookie dough is completely safe to enjoy raw as we use no eggs or dairy, and all of our flours are naturally heat-treated.
Ingredients: Cane Sugar, Gluten Free Flour Blend (oat, tapioca, potato starch), Chocolate Chunks (sugar, unsweetened chocolate, cocoa butter, vanilla, salt), Palm Oil*, Filtered Water, Cocoa Powder, Molasses, Sea Salt, Baking Soda.
*Sustainably Sourced, RSPO Certified.
Buy in bulk
Nutrition
We don't just make delicious food, we make nutritious ones. Yes, our products are treats, but we think it's important to indulge as part of a healthy, balanced lifestyle where you can have it all.
No GMOs
Gluten Free
Dairy Free
Vegan
Peanut/Tree Nut Free
Whole Grain
Kosher Pareve
Nutrition Facts - Details
Serving per Container: 12
Serving Size: 1 cookie, 1 oz (28g)
Calories 110
Total Carbohydrates 17g
6%
Includes 10g Added Sugars
20%
*Percent daily values are based on 2,000 calorie diet
Manufactured in a dedicated facility free of gluten, wheat, dairy, peanuts, and tree nuts. Made on shared equipment with products containing egg and soy.
Show More
Only clean ingredients
Ingredients that you can recognize, understand and pronounce.
Never artificial flavors or chemicals.
Cane Sugar

Oat Flour

Tapioca Starch

Potato Starch

Chocolate Chunks

RSPO-Certified Palm Oil

Cocoa Powder

Molasses

Sea Salt
Cane Sugar

We believe in using real plants that create delicious taste and are great to bake with, like pure cane sugar. Our finely ground cane sugar is vegan certified and sourced from the USA.

Oat Flour

Among the healthiest grains on earth, oats (or oat flour) are a key ingredient in all our Sweet Loren's products. Our oats are steamed before they're ground into flour — so they're safe to eat raw. High in protein, dietary fiber, potassium, calcium and iron, oat flour is one of our most favorite ingredients to work with thanks to the micronutrients and familiar taste. Oats are naturally gluten free, but due to cross-contamination issues that may occur in mills, we source only Certified Gluten Free oat flour.

Tapioca Starch

Known for being easy to digest, tapioca starch is extracted from the root of the cassava plant which is native to South America. An essential ingredient in our special flour blend, tapioca starch stands-in for gluten — it binds all our ingredients together. On top of being gluten-free, tapioca starch is grain-free. Can you see why we love it so much?

Potato Starch

This might sound a little weird — we're in love with potato starch. Made from — yep you guessed it — potatoes, this starch makes our top-secret gluten-free and plant-based flour recipe sing.

Known as a resistant starch, this ingredient has proven health benefits similar to a soluble fiber, including improving insulin sensitivity, lowering blood sugar levels and offers various digestion benefits. On top of that, it also acts as a prebiotic and feeds the good bacteria into your intestine. Who knew potatoes could do so much?

Chocolate Chunks

We're a bit obsessed with our chocolate chunks. And here's why. Made specially for us, our chocolate chunks boast a rich decadent taste and use only 5 ingredients — sugar, unsweetened chocolate, cocoa butter, natural vanilla extract, and salt. That's it. Clean, plant-based chocolate that's filled with antioxidants, protein, fiber and micronutrients like iron, magnesium and phosphorus make our chocolate a superfood.

RSPO-Certified Palm Oil

Palm oil is a vegetable oil derived from the mesocarp (reddish pulp) of the oil palm tree. It's found in a wide array of products from Sweet Loren's cookies to lipstick and even soap. It's often used as a butter replacement and is a great alternative because it has no trans fats, a neutral taste, a high melting point and is 100% plant based.

When cultivated correctly and sustainably, palm oil is the best vegetable oil to harvest — the crop produces the most oil per acre. Unfortunately, palm oil production has severely attributed to deforestation. It's estimated that farmland needed to produce it account for 10% of all global cropland. And to get that necessary space, countries where the oil palm trees grow best — like Malaysia and Indonesia — have had to clear forests to keep up with the demand.

The palm oil we use in Sweet Loren's products are proudly RSPO certified — meaning that we have ensured our palm oil is sustainably sourced. No deforestation and an ethical supply chain.

Cocoa Powder

Did you know cocoa powder was a superfood? Well, now you do. At Sweet Loren's we source our cocoa beans from Africa, the Caribbean and South America to add a rich, elegant flavor to our recipes. With all the healthy benefits of dark, pure chocolate, our cocoa powder amps up our recipes with iron, phosphorus, magnesium and zinc.

Molasses

Molasses is a sticky, dark liquid that comes from boiled down cane sugar. Bakers love this syrup because it adds moisture and chewiness to sweet treats. We use an especially thick, dark brown molasses that has a rich, robust taste — so we only use a little in our recipes. While you wouldn't expect it, molasses contains micronutrients like calcium, magnesium, iron and potassium.

Sea Salt

Like good bakers, we use salt to enhance the flavors of our other ingredients. Unlike all other Cookie Doughs — our unrefined sea salt comes straight from San Francisco's bay and offers an array of micronutrients from the obvious sodium to magnesium and calcium.
Baking Instructions
Preheat oven or toaster oven to 325℉.
Place cookie dough portions on ungreased baking sheet 2 inches apart. For easier cleanup, place on parchment paper.
Bake 10-12 min. for a soft and chewy cookie or bake 13-14 min. for a crispier cookie.
Remove from oven and let sit on baking sheet – cookies continue to bake as they cool. Enjoy!
Make it yours
Easy Recipes

Tahini Swirl Brownies

We've partnered with our friends at Woodstock Foods to bring these Tahini Swirl Brownies to life.

Read more
Easy Recipes

Chocolate Almond Brownie Cookies

Experience the irresistible taste of our Fudgy Brownie Cookies with chopped almonds and Chocolate Drizzle, in these Chocolate Almond Brownie Cookies.

Read more
Easy Recipes

Mutt Cookie

When you can't choose between fresh-baked Fudgy Brownie and Oatmeal Cranberry cookie, bake both into these Mutt Cookies.

Read more