Let's Dish / Fall Favorites
Oatmeal Cranberry Brookies
Have you baked a Sweet Loren's Brookie yet? These Oatmeal Cranberry Brookies are a game-changer.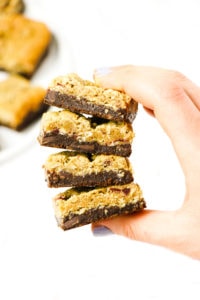 Half brownie, half cookie, this is a dessert dream come true. Layer Sweet Loren's Oatmeal Cranberry Cookie Dough with Fudgy Brownie Cookie Dough in a baking pan, and bake! No fuss, mess or clean up. Simple ingredients never tasted so good! 
Total time: 30 minutes
Prep time: 10 minutes
Bake time: 20 minutes
12 Servings
Ingredients
1 package of Sweet Loren's Oatmeal Cranberry Cookie Dough
1 package of Sweet Loren's Fudgy Brownie Cookie Dough
Preparation
Preheat oven to 325F and let Sweet Loren's Cookie Dough come to room temperature so it becomes soft to touch.
Place the package of Fudgy Brownie Cookie discs into a baking pan (you can add a layer of parchment paper first to avoid sticking).

Use your hands to flatten out the dough until it covers the base of the pan (will be about ½" thick).
Flatten out the Oatmeal Cranberry dough similar to how you did the Fudgy Brownie so there are two layers. Add sea salt, chopped walnuts, or any other toppings you'd like!
Bake about 20-25 minutes. Since ovens vary, check at the shortest time and add time as needed, until golden brown on top.

Cool brownie pan on a wire baking rack for at least 25 minutes.
Pro Baking Tip: Store in an airtight container on the counter for 1-2 days.
---
---